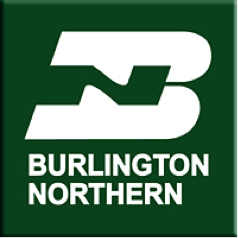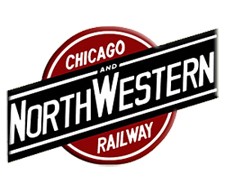 The Minneapolis & North Bay Railway has two levels. The upper level of the railroad models the BN (old GN/NP) line between Minneapolis and Duluth, Minnesota with a car-ferry operation out of Duluth to Port Arthur, Ontario. The separate lower level has a CP line that runs between Fort William and North Bay, Ontario. The Falconbridge Nickel Smelter in Sudbury is switched by trains on this line. The car ferry operation serves as the interchange between the two levels.
The period modeled on the upper level is the mid-1980s. There are many colorful paint schemes as the: BN, Milwaukee, Soo Line, Chicago & North Western, Canadian National and Amtrak all operated on the BN line to Duluth under trackage rights. The CP railroad on the lower level is also set in the 1980s.
Operation on upper level consists of an Amtrak Passenger Train, several freight trains and five local / transfer Freights, plus extras (unit coal train, grain train, ore train and work train). A Dispatcher provides track warrants using an intercom system and controls the main line switches and interlocking at a diamond. There are two Yardmasters - one at each end of the line. On the lower level, several freights / locals plus a passenger train are run. Almost every train does some work en-route, including the passenger trains.
From the old C&NW yard at East Minneapolis, trains run through Minneapolis and five towns on the way to Duluth on the upper level. There are numerous meets required on the single track line. The line on the lower level is a single track from Ft. William to North Bay running thru several towns including Port Arthur where the car ferry operation that connects with the BN in Duluth, Minn is based. There are over 300 car spots at industries and the frequently used Doug Smith car card and waybill system is used.
The entire layout has basic scenery and all structures are in place. Crew lounge and refreshment area are in the layout room. A restroom is at the top of the stairs.
Superintendent
Ross Hammond
Division or Location:
BN - Minneapolis to Duluth (upper level)
CP - Ft. William to North Bay (lower level) - Car Ferries
Interchange Railroads:
Milw, Soo, C&NW, CN, Minnesota Commercial, DM&IR
Size of Railroad:
480' mainline (single track w/passing sidings) on 2 decks in 33 x 35' basement
Scale:
HO
Era:
Mid 1980s with on BN on upper level and CP line on lower level
Control System:
Easy DCC (both radio and plug-in throttles)
Scale Clock Speed:
1:1
Length of Session:
3-4 hours
Number of Crew:
6-8
Train Control:
Verbal Authority
Are Radios Required:
No - An Intercom System is Used
Listed Jobs:
Dispatcher, Minneapolis Yard Master, Duluth Yard Master, Train Engineers to run Road Trains, St. Cloud Local, Brainerd Local, New Duluth Turn, Little Falls Turn and the East Minneapolis Transfer/Switch Run
Accessibility:
Stairs to basement - no duck unders
Distance from hotel:
8 miles
Estimated travel time from hotel:
18 minutes
Web Site:
{None...yet}
Pets:
None
Layout photos (click to enlarge):
| | | |
| --- | --- | --- |
| BN Freight passes MW Junction | BN Brainerd Local approaches Little Falls | Duluth Switcher spots cars at Garfield Ave Elevators |
| | | |
| A CN Freight crosses the Wapeti River near Sudbury | Switchers pull cars at Cedar Lake Yard | The Soo Line switches 18th Ave SE Yard in East Minneapolis |
| | | |
| The New Duluth Turn switches Gary | MILW Freight 607 passes St Cloud | A CN Freight crosses the White River Bridge |
| Incan Superior loads at Duluth | Car Ferry Loads at Port Arthur ONT | CNW East Minneapolis Transfer prepares to switch ADM |
| A CN Freight leaves White River | Duluth Switchers pulls cars of coal brought in by Laker | The CP switches INCO's Copper Cliff Nickle Smelter in Sudbury |
| The Duluth Switcher load the Car Ferry Incan | The Engine Terminal at West Duluth | The Milwaukee Scally heads to Duluth |
| The Minneapolis Northfield & Southern crosses MW Junction | The Minneapolis Northfield & Southern prepares to depart | The Minnesota Commercial leaves St.Cloud |